Tether Cars, A Photographic History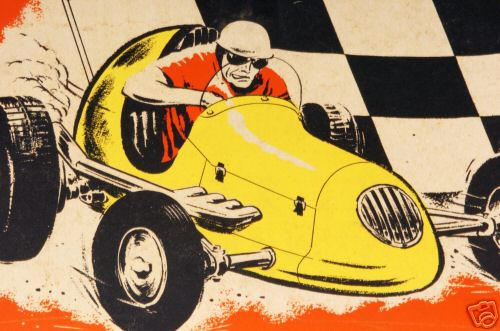 Most of these pictures were gathered from surfing the web, original source has been credited if I knew where it was from....If you are the owner of the photo and would like it removed from this web page, please let me know. If you have any additional information to add about the photo please CONTACT ME!
Ron Bernstein March 2012
1940's Cheesecake...the grill makes me think it is a McCoy Hot Rod...


Rail Track (beautifully colorized in the Zausner book)
Track day: Korn Indy front row, Mathews, Doolings..nice selection of cars...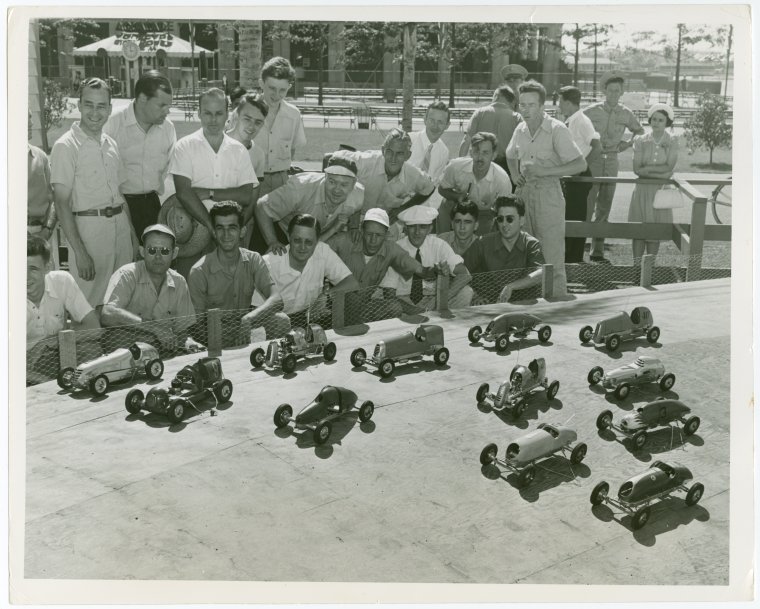 Pre War starting line up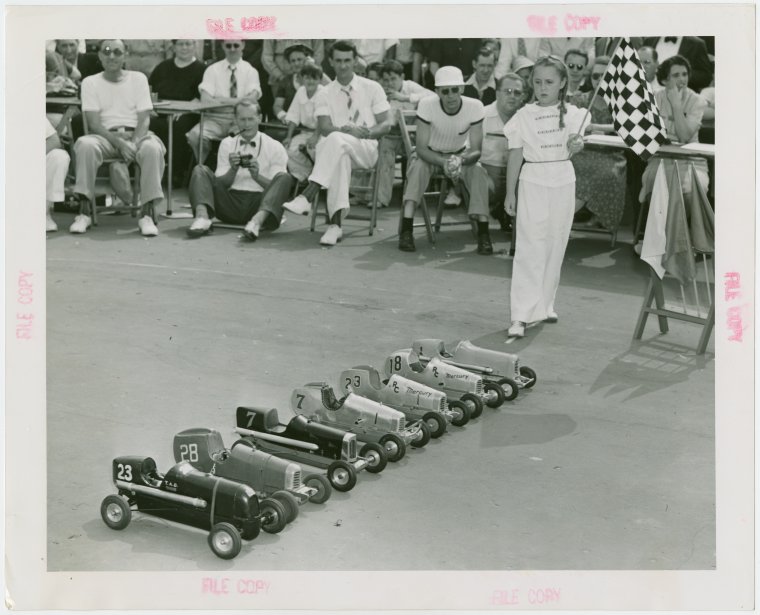 Race Day inspection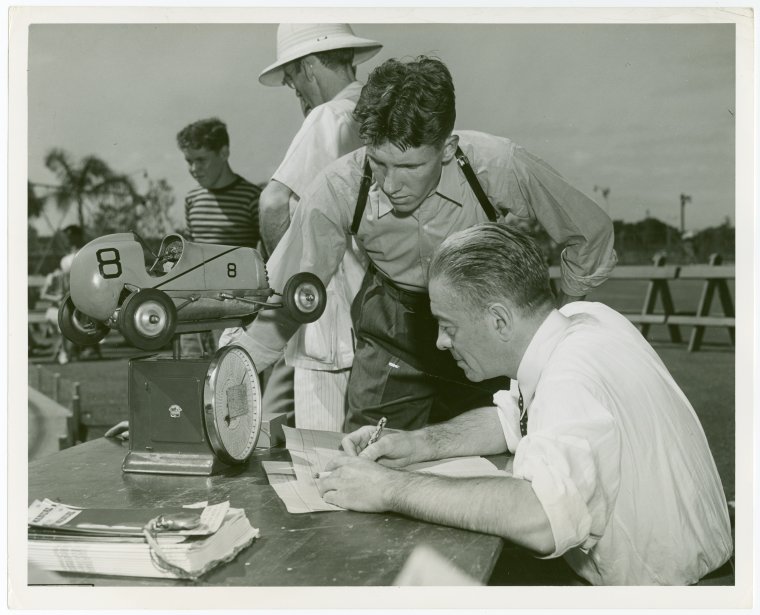 The "Push Start".....
Friction Start
Whip Start
Crashes
Tracks:
Tyrone, PA.
Fresno aerial view

Los Angeles Rail Track
San Francisco "Perfect Circle Speedway"
Vintage Streamliner Photos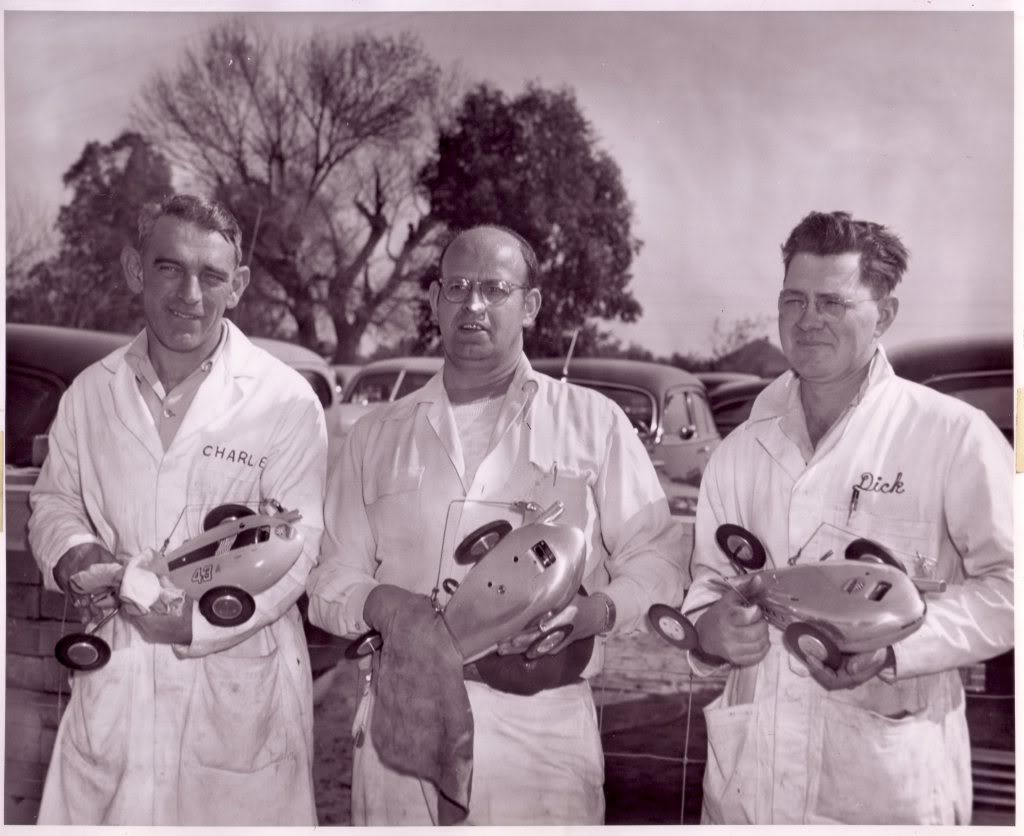 (Dick McCoy on the right?)
Vintage articles
Hemmings online "Blog" article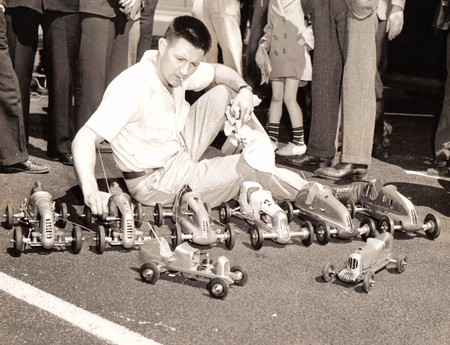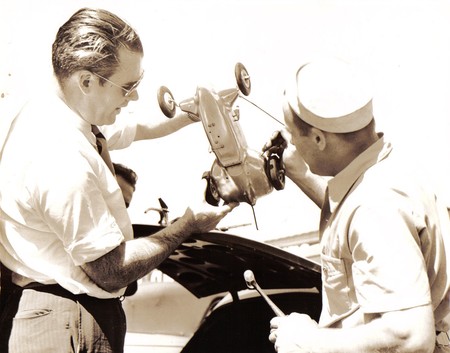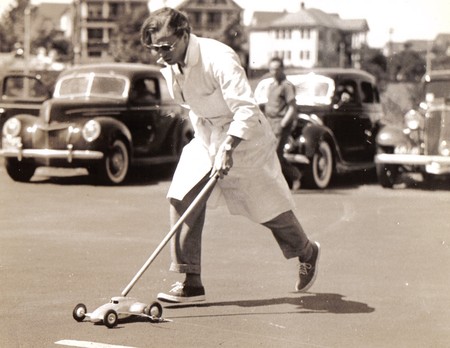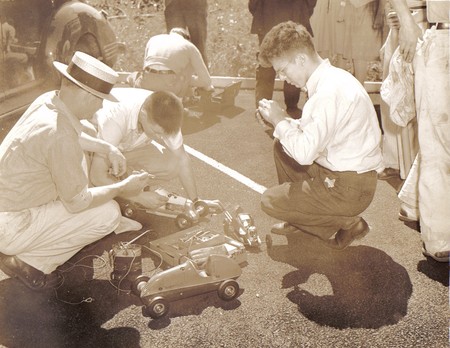 Wally Parks NHRA Motorsports Museum exhibit (Bob J)
November 2011
press release article here...
Pomona, Calif. — Spindizzies, tether cars, call them what you will, these miniature race cars that can reach real speeds of more than 200 mph are enjoying resurgence with an exhibit at the Los Angeles County Fair, a full racing schedule and a new exhibit at the Wally Parks NHRA Motorsports Museum presented by Automobile Club of Southern California.
In the mid-1930s when midget auto racing was becoming very popular in America, enterprising young men hooked up model airplane engines to home-built race cars and a new form of auto racing was born. When exhibition runs were made at the 1939 World's Fair in New York, the hobby of miniature car racing swept the nation. Within three years there were fifty-five firms manufacturing and selling miniature racers and parts. Cars ran on banked oval tracks guided by steel rails—the origin of slot car racing—or on a cable attached to a pole in the middle of a circle track. Tether cars are believed to be the first race cars to use nitromethane and thus, in a small way, can be considered the great grandfathers of today's Top Fuel and Funny Cars. Early speeds of 35 to 45 mph have jumped to speeds of 210 mph by modern Bonneville-style streamliners.
There are three AMRCA (American Model Racing Association) permanent tracks in the US: Long Island, NY, Anderson, IN, and in Whittier, CA—close to the Parks Museum, however, there is also a mobile NTCA (Northcoast Tether Car Association) track as well as tracks in other countries as tether car racing has become an international hobby with a surprisingly young demographic. And, the vintage cars now command high prices because of their rarity, coolness and collectability. For the 2011 AMRCA race schedule, visit http://www.amrca.com/results/2011/calendarsg3.php.
According to our guest curators of the exhibit, "This is a great opportunity for our group to exhibit more than 100 cars along with artifacts, memorabilia and photographs that tell the story of American tether car racing."
The exhibit will open on Wednesday, Nov 9 in conjunction with the Auto Club NHRA Finals to be held at Auto Club Raceway Pomona, Nov 10-13. For more information about the Parks Museum visit our web site at http://museum.nhra.com or, call 909.469.6171.
For information about the Auto Club NHRA Finals go to www.nhra.com.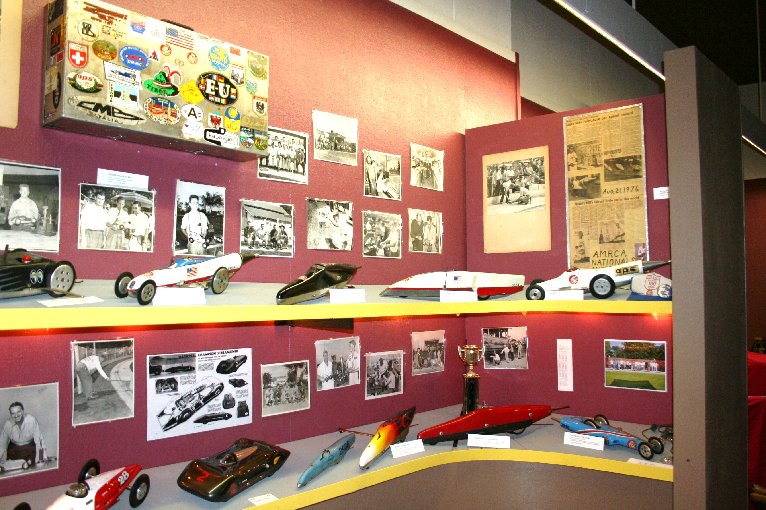 1970's? Gas Powered Hydroplane Boat...superior modelling...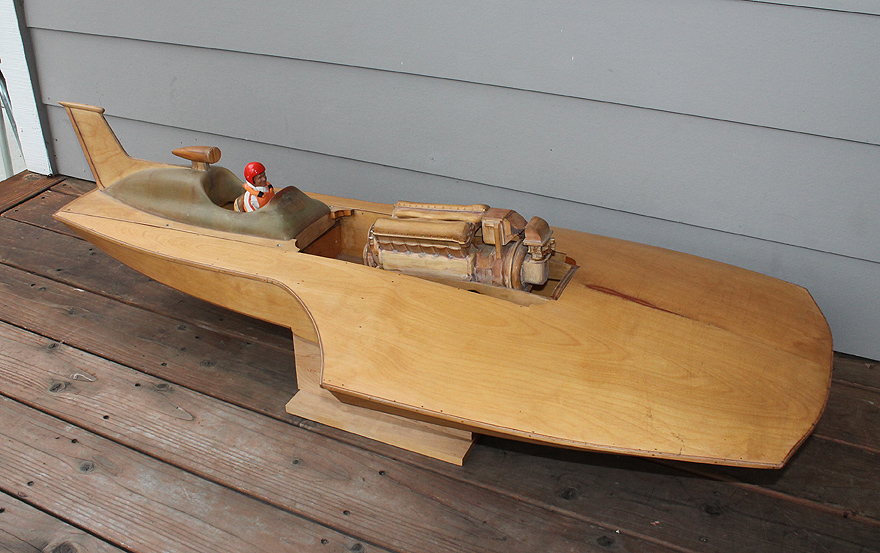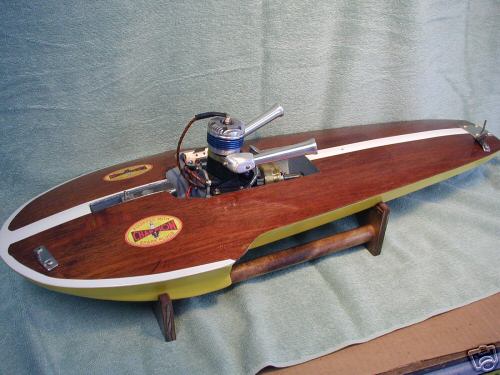 has Hassad motor
In the air...